No-Scalpel Vasectomy International (NSVI) is a non-profit organization that helps men in developing countries attain vasectomies. Doctor Jay Buenafe, at far right in the picture above, recently supported the NSVI mission in the Philippines.  The doctors volunteer their time and expertise to perform 50 vasectomies each over the course of a week-long mission.
As in other poor nations, men in the Philippines struggle to provide for their growing families. With limited access to reliable, affordable birth control, family planning can be a challenge.  Without the means to support their growing families, parents and children can be stuck in a cycle of poverty.
Dr. Buenafe brings his long time expertise in No Scalpel vasectomy to the table – literally.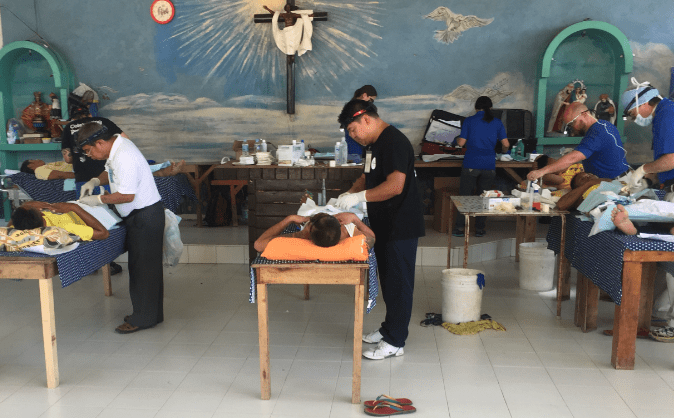 No Scalpel Vasectomy
Dr. Buenafe is a leading provider of vasectomy in Winnipeg, Manitoba. He chooses the no scalpel method to minimize patient discomfort before, during and after the procedure.  Instead of two incisions that require stitches, the no scalpel method uses a small, single puncture and a long-lasting local anesthesia. The whole procedure can be completed in under an arrow.
Supporting the NSVI Mission
Without support from physicians like Dr. Buenafe, vasectomy would just not be readily available, much less free of charge.
The NSVI program is designed to help overcome cultural misconceptions about vasectomy by matching men who have undergone the procedure with those who are considering it. NSVI provides the men who do the outreach with a stipend, helping to encourage participation but also to support the local economy.
Overcrowding is another significant issue in the Philippines. Manitoba is twice as large in area as the Philippines, but compare the two populations:
On an island, there is limited room to grow, so managing population is an important component to ensuring there are sufficient resources – food, water, sanitation.
By providing an option that lets couples make proactive decisions about the size of their family can have a huge impact on the quality of life for themselves and their children.
How The Mission Works
NSVI provides procedures in multiple cities, including Manila, Cebu and Lapu-Lapu.  The in-house service team coordinates with the visiting physicians, setting the schedule, locations and providing support staff to assist.
Dr. Buenafe participated in all three cities, including a clinic at the Lapu-Lapu city jail. Helping men who are re-entering society with limited means avoid the burden of an unwanted pregnancy helps to re-establish themselves as self-supporting.
Your Donations Help
Though the doctors donate their time and expertise, donations help the NSVI pay for their travel costs and living expenses. You can help support the work of Dr. Buenafe the other physicians that by making a tax deductible contribution to NSVI.
The commitment to help poor families create path out of poverty is a wonderful mission that Dr. Buenafe avidly supports.
Though it may not immediately come to mind, vasectomy is an viable tool to help families escape poverty and be able to support themselves moving forward.