Circumcision in Manitoba with the Pollock Technique™
Buenafe's Circumcision Procedure – Step by Step
In the case of a baby or young child circumcision, it is best to have finished feeding your son just before bringing him to see the circumcision doctor, so that he will not be overly hungry while you are waiting in the office. If your baby is hungry when you arrive, you can feed him at any time during your visit.
Please read on to learn about the multiple steps we will take to minimize discomfort during the short circumcision procedure. Our doctor will take good care of your son (or of you in the case of an adult circumcision). Parents will be present the whole time during an infant or boy procedure.
You will be at our Winnipeg circumcision clinic for just over an hour, and we want to make that time as pleasant as possible. The total time is about the same for all age groups, but the actual procedure is a bit longer for boys and adults due to the extra step of skin glue application. In any case the procedure is completed in a few minutes.
All the following steps are taken to ensure minimal discomfort.
Tylenol Before You Come to the Winnipeg Clinic
First, give your son Tempra or Tylenol drops (also called acetaminophen) just before you leave home or, if you are traveling a long distance, after you arrive at the clinic. Infant acetaminophen drops usually come in a concentration of 80 mg/1 ml (check the bottle that this is the correct preparation). The proper dose for his weight is shown in the table below.
For older boys and adults take one or two 500 mg Tylenol 30 minutes before the procedure.
| | |
| --- | --- |
| 6-7½ lb | 0.5 ml – 0.6 ml |
| 8-9½ lb | 0.65 ml – 0.8 ml |
| 10-11½ lb | 0.85 ml – 0.95 ml |
| 12-14 lb | 1 ml |
| 15-17 lb | 1.2 ml – 1.4 ml |
| 18-20 lb | 1.5 ml – 1.7 ml |
If you are uncertain of the proper dose after reviewing this, please give us a call for advice so we can guide you to administer the right amount. Please do not give any other medication besides Tylenol or Tempra (i.e., No Ibuprofen, Advil, Motrin, etc.) because it may increase bleeding time.
The objective of the Pollock Technique™ is to minimize stress on the infant and family via maximum pain control and a quick and simple procedure.
Anaesthetic Cream to Numb the Skin
In our office, your child will have topical anesthetic applied to his penis. This is an anesthetic cream that numbs the skin. This surface painkiller is the second step we take to minimize discomfort during circumcision. This part of the procedure is much the same for all age groups
Pain Blocking Injection – Local Anaesthetic
Next, once the skin is numb, the patient will be given an injection called a dorsal penile ring block into the soft tissue alongside the penis. Our doctor uses a combination block of both short and long acting anesthetic. This provides comfort and coverage for both the procedure and for hours after.
Since the topical anesthetic has already numbed the skin, the injection is hardly felt. After a few minutes minutes, the penis is "frozen", and the circumcision can be done.
Distraction During the Brief Circumcision Operation
During the injections and the circumcision, babies will receive a sugar pacifier to suck on. During the circumcision soothing music is played, room temperature is increased and your baby son may continue to receive sugar pacifiers to suck on for additional comfort. Studies show that the sweet flavours distract babies and reduce their perception of pain.
For older kids and adults candy may be provided, and the patient will be entertained by their choice of television or movies to help them be at ease during the procedure.
Observation Post-Procedure
Although the circumcision takes just a few minutes, we request that you be in the clinic for about one hour in total.
During the post circumcision observation period we will also carefully review with you all post procedure care and answer your questions before you take your child home.
Caring Team Always Available
As parents we understand that safety concerns are always number one. For your peace of mind, Doctor Jay & Doctor Tanner will be reachable 24 hours a day.
All clients are given our 24-hour contact information so they can reach the doctor directly should any concerns arise. In the unlikely event of a problem after the circumcision you will have fast answers to your questions or concerns.
Call Us to Book
London & Hamilton
The Penis Before & After Baby Circumcision
The three images below show the change in your baby boy's penis brought about by circumcision.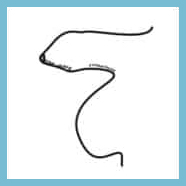 Our Circumcision Method and Pain Control Approach
The Pollock Technique™ used by Dr. Jay & Dr. Tanner is based on the Mogen technique. This technique is known for its quickness and safety. In conjunction with this method, our circumcision doctor uses the most complete and extensive pain control methods available. This ensures that your son will feel little or no pain at all. The objective of the Pollock Technique™ is to minimize stress on the infant and family via maximum pain control and a quick and simple procedure.
Our doctor, Dr. Jay Buenafe, has trained with the renowned Dr. Neil Pollock at his clinics in Vancouver, and has been certified in the use of this circumcision surgery technique.At Buenafe Clinic, we use the Pollock Technique™ for circumcision procedures for all ages of babies, boys, and adult men.
The detail above on this page is somewhat focused on how we apply our method for infant circumcision, so please visit the adult circumcision page or the teen circumcision page if you would like more information on circumcision at an older age.
Extensive pain control methods are employed for all ages; including Tylenol, topical freezing cream, and a long acting local anesthetic. Older boys and adult men also benefit from a virtually painless procedure.
Please contact us today for more information. You can call on 204-697-9013 or use the online form to schedule a circumcision appointment.
Winnipeg Circumcision, Vasectomy & Erectile Dysfunction Clinic